Description
* Windows AC with inverter compressor: Economical and easy to install. It has variable speed compressor which adjusts power depending on heat load and is energy efficient
* Capacity: 1.5 Tonnage Range. Suitable for medium sized rooms (111 to 150 sq ft)
* Energy Rating: 3 Star. Annual energy consumption: 1213.33 Units. ISEER value: 3.0 (please refer energy Label on product page or contact brand for more details)
* Warranty: 1 Year (Comprehensive), 10 Years (Compressor with Gas Charging T&C)
* Copper with ocean black protection: Prevents from Rust & Corrosion | Increase Durability | Uninterrupted Cooling | Increase Durability
* Special Features: Dual Inverter Compressor | Top Air Discharge | Clean Filter Indication | Low Gas Detection | Stabilizer Free Operation (145V~290V) | Magic LED
* Refrigerant gas: R32. Environment friendly - no ozone depletion potential and low global warming potential
* Dimensions (Width x Height x Depth): 66.0 x 38.0 x 73.1 (Cm) | Net Weight (Kg): 42
* Included in the box: 1 AC unit, 1 remote, 1 Manual, 1 Warranty card, 2 batteries
* LG window air conditioners are designed for easy and efficient installation and come with a washable and reusable air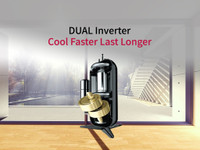 DUAL Inverter
This LG DUAL inverter air conditioner ensures quiet, fast, long-lasting operation so that you don't have to worry about anything while enjoying the cooling that it provides.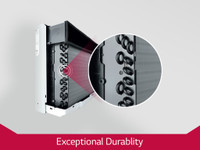 100% Copper with Ocean Black Protection
This air conditioner features anti-corrosive Ocean Black Protection, which ensures durability and long-lasting use in Indian climatic conditions.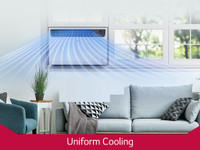 Top Air Discharge
This air conditioner has a top discharge outlet and it provides wider airflow to ensure quick and uniform cooling all around your room.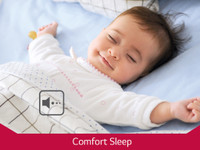 Silent Operation
You can enjoy the cooling in your room without being disturbed, thanks to the silent operation provided by this air conditioner.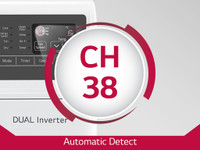 Low Gas Detection
When the air conditioner detects low gas levels, it displays CH 38 to enable timely refilling and maintenance.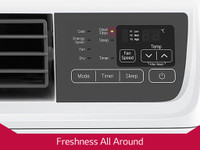 Clean Filter Indicator
This air conditioner displays timely notifications so that you can easily maintain a healthy and clean filter.