Description
* Split AC; 1.5 ton
* Energy Rating: 3 Star
* Warranty: 1 year on product, 5 years on condenser, 10 years on compressor
* Split AC with inverter compressor: variable speed compressor which adjusts power depending on heat load. It is most energy efficient and has lowest-noise operation
* Suitable for medium sized rooms (111 to 150 sq ft)
* Energy Rating: 3 Star, ISEER value: 3.5
* 1 year on product, 5 years on condenser, 10 years on compressor
* Percent copper condenser coil: better cooling and requires low maintenance
* Additional features: dehumidifier, anti-bacterial filter, dust filter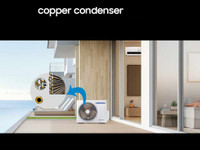 Copper Condenser
The copper condenser ensures optimum heat exchange for fast and precise cooling. Also, it features fins that are made of a corrosion-resistant material to add to its durability.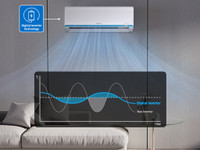 Digital Inverter Compressor
The digital inverter technology delivers an energy-efficient performance by maintaining the desired room temperature without turning on or off the AC frequently. As a result, it ensures less fluctuations. This technology uses sturdy magnets and a muffler to deliver a quiet, long-lasting, and energy-efficient performance.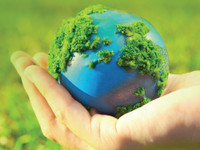 R32 Refrigerant
This Samsung AC offers comfortable cooling with low impact on the environment. It uses R32 refrigerant to protect the ozone layer, and also to reduce global warming.
Fast Cool
During summers, when you step inside your home, you need fast relief from the outside heat, and this feature ensures the same. In this mode, the fan speed is optimum before slowing down. Thus, this mode cools or heats quickly, and helps reach the desired room temperature in a short span of time.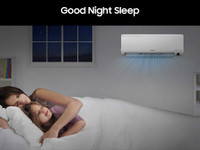 Good Sleep
This mode creates the right climate in your bedroom for a sound sleep whenever you want. By controlling the temperature, this mode helps you feel comfortable which is much needed for a good nap so that you wake up rejuvenated.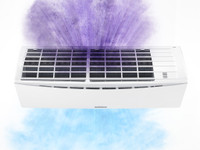 HD Filter
This AC ensures that you get to breathe clean and fresh air, thanks to its HD Filter that captures dust, allergens (pollen, mold spores, pet dander, etc.), and other airborne contaminants. This filter is washable, and you can rinse it quickly to reuse it again.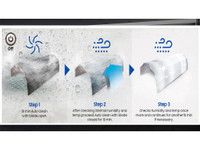 Auto Clean
This feature ensures that your AC interior is hygienic. This function automatically dries the Heat Exchanger via a three-stage process. To remove moisture, it blows air for about 10 to 30 minutes. As a result, it prevents the build-up of odors as well as bacteria.